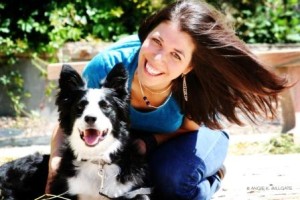 Johanna Teresi
CPDT-KA, Dog Trainer
& Certified Life Coach:
She began dog training in 1989 and became a professional dog trainer in June of 2006.
For about 5 years, she was in 4-H and showed her Shetland Sheepdog mix and Border Collie mix in obedience and showmanship.
She received a Bachelor's degree with a major in psychology (a specific concentration in animal learning) and a minor in zoology at Ohio Wesleyan University.
She trained numerous exotic animals and performed in educational shows at three public zoos.
She absorbed herself in a gambit of materials (books, seminars, videos, etc.) on reward-based training.
She is a Certified NLP (Neuro Linguistic Programming) Coach. This means she is aware of your thoughts, emotions, and energy and how they affect your dog. She uses her coaching techniques to help change your present state to your desired state which manifests your doggie dreams faster.
She is a member of the Association of Pet Dog Trainers (APDT), an international organization supporting humane dog training.
She is also Certified Pet Dog Trainer.
She is looking forward to many more years of great training relationships with dogs and their owners!