CONTACT US BELOW TO LEARN MORE.
ONLINE DOG TRAINING WORKS AND EMPOWERS YOU TO GET YOUR DOG TO LISTEN TO YOU. GAIN PEACE NOW. WE CAN HELP YOU NO MATTER WHERE YOU LIVE. ALL YOU NEED IS THE INTERNET
ABOUT THE ONLINE DOG TRAINERS – SERVING ANY LOCATION INCLUDING SLC AND OGDEN AREAS
Let us coach you to train your dog online with the Four-Legged Scholars Trainers
Johanna Teresi, Utah Online Dog Trainer and Owner of Four Legged Scholars LLC, Dog Training, Salt Lake City
What got me into dog training?
When I was eight years old, my dad brought home a cute Shetland Sheepdog puppy.
I was so excited, and I immediately wanted to keep her. My dad wasn't sure, but I convinced him that I was ready to take care of my own pup.
I named her Heather, and completely fell in love with her. I immediately began training her tricks, and she loved it. My dentist loved animals and put on a pet show once a year.
I was so excited to bring Heather and show her off. I did so for numerous years and won first prize a few times. When I was in 4th grade, I began visualizing myself on stage doing animal shows. I decided to start this dream by joining dog 4-H. Heather and I did numerous shows in obedience and showmanship. I continued 4-H and showing when I received my next dog, Shadow, a Border Collie Mix.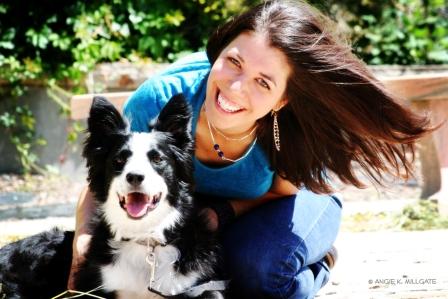 Why did I continue doing dog training (Salt Lake City)?
Once I had Shadow, I realized I wasn't enjoying dog training anymore. I was training with a choke collar and was using harsh training methods. It was no longer fun. Luckily, I was showing my dog at an obedience event, and my judge told me about an awesome book Don't Shoot the Dog by Karen Pryor.
He said this method of training was more fun and humane. I read it and learned all about clicker training. Because I felt so passionate about dog training and learning how to train with rewards, I was hooked.
I began attending professional dog training seminars when I was only in high school. My mind absolutely loved problem solving on how to get my dog to listen in ways that were coming from being a team.
What is my education?
When I graduated high school, I decided to attend Ohio Wesleyan University in Delaware, Ohio. I received my Bachelors in Psychology and minored in Zoology and theater.
The psychology classes that I personally studied were focused on how animals learned. My advisor was a pro at animal learning and helped me learn a ton about animal psychology. He definitely was my mentor at that time.
Did I ever make it to the animal shows?
I actually did. It wasn't exactly how I planned it to be, but I got involved in zoos. When I was in college I did an internship with the animal show at the Cleveland Zoo. I then progressed to the Columbus Zoo after college where I worked in the reptile department and then participated in the animal shows for a summer.
After living in Ohio all of my life, I decided to move to Utah and worked at the bird show for a summer at the Utah Hogle Zoo in Salt Lake City. As a result, I have much experience training many animal species. I trained parrots, raptors, ferrets, prehensile-tailed porcupines and more!
It was so cool being able to communicate with so many different animal species! I really love animal training a ton and I think it is fun to see how you can train any animal by using rewards.
How did I become a professional Salt Lake City dog trainer ?
After working at zoos, I realize I worked best doing animal training with dogs. Salt Lake City, Utah is where I networked with different doggie daycares and began holding dog obedience classes at multiple facilities.
I really enjoyed it so I decided to train professionally. After more networking, I began getting calls for private Salt Lake City dog training in people's homes.
How did I start doing Private Live Online Dog Training Through Zoom ?
When Covid hit, I had to move all of my dog training clients online. At first, I thought it would be a nightmare. It turned out to be a gift in disguise. As I studied about online learning, especially from other dog trainers that were already offering online dog training services, I found that my online services surpassed my in-person dog training services.
At first, many were clients were telling me that they were skeptical about private online dog training. However, as these same clients worked with me, they saw that I could give them much more value online than I could in-person.  Also with decreased travel time, I could invest more time with my dog training clients.
 Since I could no longer take the leash, I had to become very good at teaching dog owners. They told me that I was immediately empowering them to train their dogs.
When I went to the clients' houses, I was a distraction to the dogs or I was immediately conditioning them to behave upon my arrival. When I train online, I get to see the dog's true behavior in the house. I get to immediately see how the dogs interact with their owners. I am not an added variable in the picture anymore. I am seeing how it really is at home without me being there.
Over and over again, my clients are telling me that they love online dog training. This is when the human end of dog training has been taken to the next level.
As a result, I moved my in-person dog training to live personalized online dog training and can help with behavioral issues and with obedience problems.
Do you want to learn more about the benefits of online dog training? Click here.
What about the owner end of dog training? Isn't dog training about training the owner as well?
Yes, much of dog training is helping the owners understand why their dog is doing behaviors and helping the owners get the tools to change the behavior. When I first began training professionally, I had difficulty with getting the owners to do their homework.
After becoming a certified life coach in NLP, (neuro-linguistic programming) much changed. I was able to communicate with the people-end of dog training better.
My Salt Lake City dog training clients did their homework, loved working with me and got results. It is amazing what can be done with NLP. I can easily teach dog owners how their thoughts and emotions affect how their dog behaves.
Because dog training is about coaching dog owners, I can easily coach you no matter where you live. I now offer my services online and have helped people in multiple states.
How do we help dog owners with dog training online?
I want to hear about your dog.
Namaste,


Johanna Teresi, Utah Dog Trainer and Owner of Four Legged Scholars LLC, Dog Training, Salt Lake City
Complete the Contact Form Below to Gain Peace of Mind Now.
We understand your struggles and you've come to the right place!  We care about your success, and we will take you through a step by step process to coach you in getting your dog to listen. Please complete the form below to learn how we can personally help you and your dog.
Get in Touch By Phone Or email
We have a wide variety of course options that are sure to work with your needs.  Get on the path to your peace of mind today!